My friend Liz from her blog,
From Chalkboards to Strollers
, started posting about
Tot School
. Her activities are amazing, and since I've been feeling like I'm in a rut lately of not spending enough time with my little guy, I've decided to join the fun.
Tot School
is not a school but a concept. The goal is to set aside special time each day with my tot (Little Lewie), so that I'm exposing him to "early learning skills through FUN play." The main rule is "Tot School is not forced, is always fun, and always focused on my tot," which means I don't worry if my project doesn't go as planned.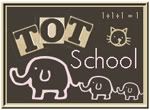 The
Tot School link
is posted on Saturday, but moms can link up anytime during the week to show the different activities they've done with their toddlers. So far, the ideas I've seen are so creative--they've inspired me to get out of my work and errand rut and start actively participating in learning activities with my little guy again...
Here goes one of the activities we did this week...
I decided to let my little guy have fun playing with uncooked rice and noodles. While I need to invest in some trays so that there isn't a messy clean up...we still had fun. First, Lewie had fun scooping rice into various containers and letting it 'sprinkle' all over.
When I gave him the noodles, it suddlenly occured to me that we could make a 'noodle necklace.' I found some coarse string/twine, and I tied one end to our kitchen chair (this kept the noodles from falling off one end.) While Little Lewie still couldn't 'thread' the string into the noodles, he certainly had fun moving the noodles up and down the string. As each noodle was threaded, we'd have the noodle glide down the string. (It reminded me of a zip line.) Lewie had fun with this, and all in all, it was a great sensory experience.
Having fun with rice and fun containers.
"Hmmm...this feels different!"
Twine for our 'noodle necklace.'
'Let's watch the noodles go down the zip line!'
'This is pretty fun!'
Okay, so my goal is to start coming up with different themes each week, so we can combine play with actual learning lessons, but I'll get there. In the meantime, we did enjoy this activity, and I plan on doing more and linking up each week, so I can both share ideas and get inspired from other moms.
I hope everyone is enjoying their weekend!