It's so much fun to read and follow new peoples' blogs.
If you decide to become a new follower through
Tuesday Tag Along
, please leave me a message, and I'll happily follow you back. It's so important to support each other, and it's even more fun to make new friendships in the process!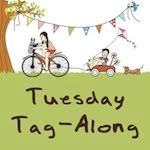 Happy Tuesday! If you have a chance, please stop by my Top Ten Tuesday post, Ten Clues that Your Life has been Overrun by a Toddler!